For community wi-fi at the pool area and clubhouse please scroll down if you are having issues connecting.



For ordering new service in a unit

, please call 1-800-Xfinity (934-6489) to order service the bulk service includes the 'blast' internet with speeds up to 200mps, you are also entitled to 1 'flex' box (similar to Roku, Fire Stick etc.) if you wish to get one of those also. 

Cable TV service IS NOT included and you can order that separately or if you are looking to change to a streaming service below are some links to help you decide which may be best for you

https://www.centurylink.com/home/tv/recommendation/

https://thestreamable.com/matchmaker?channels=cbs,nbc,fox,abc,the-cw,mynetworktv&market=ft-myers-naples-fl

https://www.suppose.tv/tv?m=61&f=1l61ll250l50l1l0lll1&r=r1MDtksGO




If you have no signal you should confirm your internal co-axial wiring is connected to Comcast Service



Your 'internal cabling' may have been disconnected from the outside and you may have to reconnect the Comcast cable coming from outside to make your cable outlets 'live' throughout the unit.  To do this check the splitter or other connection in your laundry room, in the junction box if the white wire coming from the 'floor' is not connected then reconnect this cable coming from the floor to the black internal cabling feeding the unit. 

COMMUNITY WI-FI
To access community wifi you ill need to choose the wi-fi hotspot labeled 'Community XFINITY' (not xfinitywifi),

On your mobile device or laptop you will be asked to accept terms and conditions the first time you look to use WiFi, if you connect as a 'Guest' you will have 24 hour access, if you have already created an Xfinity account for your home service logging in using that account will extend for as long as you maintain an xfinity account.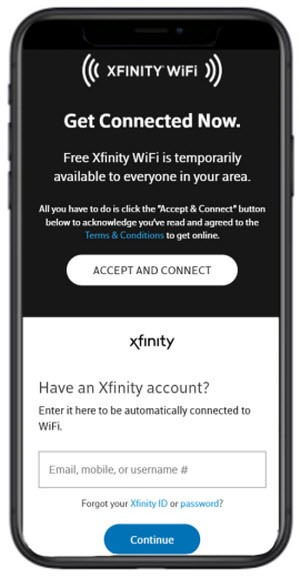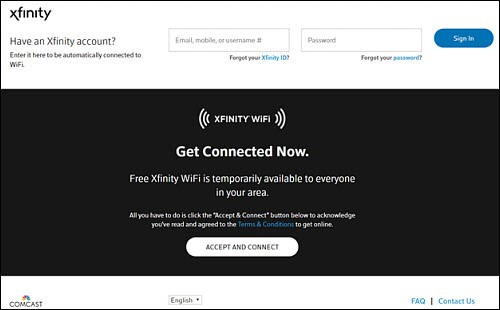 If you do not get this screen you may have to turn on and off your wifi or even power down your device to clear any history of prior attempts or access.